Hi everyone! Guess what Funny Dog Moments just hit 200 followers. I can't believe it! I just wanted to take the time to say thanks for every one of you who has been following me. I love telling funny stories of Cinnamon my awesome cocker spaniel/poodle to all of you. It means a lot that you guys come and look at my blog!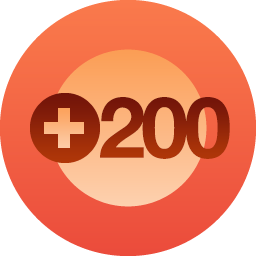 I can't believe it!  I started off with this blog about a year ago and believe me I  had no idea what a huge impact it would make on people or that I would end up doing well on it. It's been an amazing ride and I'd also like to say that I'm glad that I wrote about Cinnamon and all of our crazy walks and the silly pics of her sitting on my couch and playing around with my sister and I. Just thinking back on that, thinking of all the great memories I wrote about throughout this time brings a huge smile to my face. I hope you all continue enjoying my funny dog moments with Cinnamon!
I also want to say thanks to Cinnamon, who has been the center of this blog and my life. She means everything to me. She's only been with me for about 6 years now, but she's part of the family now. She's like a little baby, always cuddling with me all the time and then the next second she's off barking like crazy under the window at a cat! Jeez. She sure is a handful sometimes, but I love her very much!  She is my best friend!
This blog just keeps growing and getting better and better. Can't wait to keep going, to keep posting up more pics of Cinnamon I am so grateful again for all of you who have been supportive out there, even my family too and friends. Blogging wasn't always easy for me at times, so to be able to stick with this and keep going when I felt like quitting made all the difference!
So again thank you! Cinnamon and I are so happy that we got 200 bloggers following us now!
Hope you are having a fantastic weekend!
-Paula